In Vietnam, Help the Hungry volunteers travel to some of the poorest regions. We distribute food, clothing, medical supplies and other essentials.
Many families are without safe drinking water or access to proper sanitation. Disease is a constant threat. Help the Hungry builds water wells in remote regions where families are in dire need of clean drinking water. Our volunteers also distribute mosquito nets in malaria-prone areas to prevent disease.
By providing humanitarian aid, Help the Hungry does more than tend to the immediate needs of poverty-stricken families. We restore their self-sufficiency and renew their sense of hope.
We also work to brighten the lives of children, through the simple gift of toys. It's a remarkable moment when children are handed toys that light up their faces with joy during some of the most difficult times.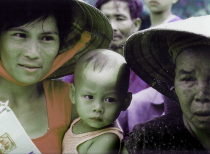 HTH is different from large charities
HTH is a tightly-run non-profit. We operate strictly on an all-volunteer basis. Unlike most large charities, there are no salaries, no building costs, no telemarketing budgets, and virtually no overhead. This is important because it means your donations go directly to those in need.


HTH changes lives
We are able to see first hand the smiles of a hungry child, tears of joy from worried parents, and relief in the eyes of the elderly.
Keep in mind, Help the Hungry is not just about delivering humanitarian aid. It's also about helping you, our donors and volunteers, experience life in a meaningful way. So we encourage you to help us Help the Hungry and start the experience.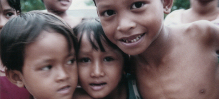 HTH relief in action
Our work in Vietnam is proof that lives can be improved by focusing on a need and becoming effective in a particular region. Help the Hungry has been instrumental in helping thousands rise from devastation in Vietnam, and with the proper funding, we plan on strategically expanding into other regions of the world.
But we can't do it alone. We need your help. Tragedy and despair do not discriminate, which is why all of us must work together to make a difference.